Tokyo Electron Taiwan Participates in Taipei Marathon and Gives to Charity through Running Events / 東京威力科創參與台北馬拉松為公益而跑
Tokyo Electron (TEL) in Hsinchu, Taiwan, a group company of the leading semiconductor production equipment manufacturer TEL, sponsored the Run for Charity marathon event again this year to celebrate the 21st year of the company's founding in Taiwan, as well as to fulfill its commitment to the CSR (corporate social responsibility) principles. In the same spirit, the company also participated in the 2017 Taipei Marathon today for the first time. The company encouraged its employees to run for these events, and cooperated with associated charity programs, through which the company will make a donation to the National Nantou Special School for an amount proportionate to the total distance covered by the employee runners.
The Run for Charity event drew a large number of runners including over 70 employees of TEL or their families. Meanwhile, the company also participated in the Taipei Marathon—the largest marathon event in Taiwan—to introduce a social media-based donation program, in which the company gives to charity an amount proportionate to the number of hashtagged selfies of citizens taken with the company's robot cheering squad. (Some of the employees formed a cheering squad wearing Iron Man and robot costumes, giving encouragement to all runners and attracting a lot of attention.) As the runners covered 1,600 km in aggregate today, the company added a proportionate amount to the contributions raised, bringing the total donation to NT$550,000. The fund will be used to provide children with disabilities with an improved studying environment. The charitable spirit of these running events will continue to make people happier.
TEL台灣子公司-東京威力科創股份有限公司,在台深耕21年,作為半導體以及平面顯示器製造設備的領導先驅,為持續實踐「企業社會責任CSR」的精神和信念,今年也發起「RUN愛能無限」公益路跑活動,並首次參與2017台北馬拉松賽事,期望透過對體育賽事的支持,邀請東京威力科創的同仁一同參與路跑,結合公益捐助計劃。依照路跑累積的里程數,轉換成公益基金做愛心捐助。此次路跑所累積的基金將捐助「國立南投特殊教育學校」。
本次的公益路跑活動,在公司的號召下,共有超過70名的東京威力科創的員工及家屬參與這場全台最盛大的馬拉松賽事。另外,現場民眾與東京威力科創的機器人加油團合照打卡並hashtag指定內容,每一張照片也將轉換成公益金。全員累積路跑里程超過1600公里,轉換成55萬台幣的公益基金。東京威力科創透過公益基金捐贈,提供給身障的孩子們一個更好的學習環境。台北馬拉松猶如一場運動嘉年華會,東京威力科創派出的加油團相當吸睛,創意裝扮成鋼鐵人、機器人等科技感十足的角色,為所有跑者加油打氣,展現RUN愛能無限,跑出幸福與能量。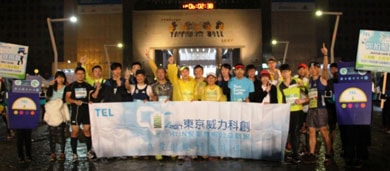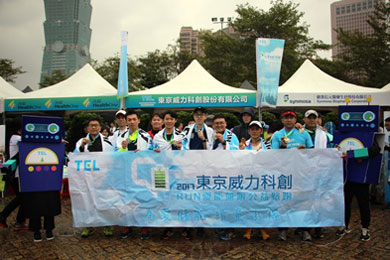 About Tokyo Electron
TEL, established in 1963, is a leading manufacturer of semiconductor and flat panel display production equipment. TEL has 75 operating bases for research & development, manufacturing, sales, and service in 16 countries and regions in North America, Europe, and Asia, offering the latest equipment and services of the highest quality. TEL in Hsinchu, Taiwan is located within the Hsinchu Science Park.
關於Tokyo Electron
Tokyo Electron (TEL)成立於1963年,為半導體以及平面顯示器製造設備的領導先驅,全球皆設有研發、製造、銷售共75個據點,遍佈美國、歐洲、亞洲等16個國家,致力於提供最先進的設備以及最優質的服務。東京威力科創台灣總部位於新竹科學園區。