Human Resource
Approach to Human Resource management
We believe that our corporate growth are enabled by people, and our employees we create and fulfill company values. Based on this approach, we practice motivation-oriented management. We actively invest in our employees and implement a variety of measures while also providing many opportunities for employees to challenge themselves to achieve high-level goals by making the most of their individual potential.
These initiatives have led to continuous improvement of employee engagement scores and the maintenance of high retention rates. This has also helped us earn the trust of our customers by ensuring reliable technology.
Our global uniform human resource platform discloses information such as job duties and career opportunities to all employees. Through this, we are implementing autonomous career development and visualizing career paths.
In addition, to promote career development, we are investing in capability development through TEL UNIVERSITY*. Furthermore, we differentiate employee evaluations based on Company performance as well as employee's individual responsibilities and contributions to the Company. Through this, we achieve fair and competitive global level compensation while striving to attract and retain the best human resources.
TEL UNIVERSITY: Refer to Human Resource Concept at TEL UNIVERSITY An in-house education platform that helps employees independently build their careers and realize their personal goals for their growth and development
Personnel Policy
Respect for Human Rights

We respect the character and individuality of each person and strive to create work environments without any infringement of human rights.

Diverse Workforce

We strive to respect and understand differences in values arising from gender, nationality, age, race, creed, religion, and other attributes and to be a corporation where a diverse range of employees can work to their full potential.

Human Resource Development


We believe that each employee is the source of value creation and support the development of skills by employees.

Employee Assessment and Treatment

We provide opportunities to those employees with the enthusiasm for personal growth and engage in fair evaluation of skills and employee treatment so that employees with significant results can be rewarded.

Occupational Safety and Health

We place the highest priority on ensuring the safety and health of employees and maintain environments such that employees can work safely at our workplaces and local residents feel a sense of reassurance.

Work-Life Balance

We implement measures to enable employees to achieve a good work-life balance.
Framework
TEL maximizes its corporate value by maintaining an open and dynamic organization that enables all employees to apply their abilities to the fullest extent. TEL is also optimally structured to be flexible and respond quickly to any changes in the operating environment.

The HR (human resources) departments at the head office and in the various TEL companies work closely together on personnel issues, convening the Japan HR leaders meeting*1 every month and Global HR leaders meeting*2 twice a year in principle. These meetings serve as the forum for sharing corporate missions, setting goals, communicating activities, and discussing key issues. Under this management framework, our HR departments identify risks from an organization-wide perspective and make sure appropriate measures are implemented throughout TEL.
Japan HR leaders meeting: A meeting comprising the heads and principal managers of HR departments at Japanese Group companies
Global HR leaders meeting: A meeting comprising the heads and principal managers of HR departments at worldwide Group companies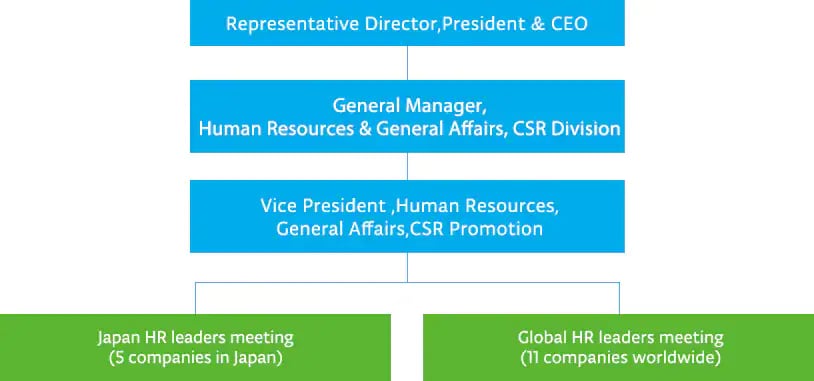 Employee Engagement
Improving employee engagement is essential to maximize corporate performance and achieve sustainable growth. Recognizing that employees both create and fulfill company values for us, we have been regularly conducting engagement surveys since fiscal year 2016 to assess the current state of employee engagement and identify issues.
Based on the results of these surveys and on employee feedback, we endeavor to establish better workplace environments; at the same time, we are working to foster a better corporate culture that empowers all our employees to maximize their abilities in an open-minded environment, to engage energetically with their work and to participate in constructive discussions and exchanges of opinions.
Examples of our measures include ensuring continued messages from the management; increasing opportunities for direct dialogue between management and employees on the current state of the company and its future; and providing training aimed at increasing employee awareness of safety, quality, compliance and other foundational management principles.
As a result of these initiatives, employee engagement scores improved in nearly all Group companies in Japan and overseas subsidiaries between fiscal year 2016 and fiscal year 2023. Our overall employee engagement score has risen by 18 points since fiscal year 2016 and by 6 points since fiscal year 2021, and in Japan our employee engagement score now falls within the top 25% of all companies.
As our employee engagement score has risen, so our employee retention rate* has reached an extremely high level, standing at 92.7% globally and 98.9% in Japan for fiscal year 2023.
We believe that improving employee engagement is vital for providing increased value to our stakeholders. To this end, we intend to implement various measures in a continuous and effective manner, such as further enhancing our employees' work-life balance, improving work efficiency through DX, and strengthening safety, quality and compliance.
Retention rate is calculated using data on turnover rate.
Regular engagement survey process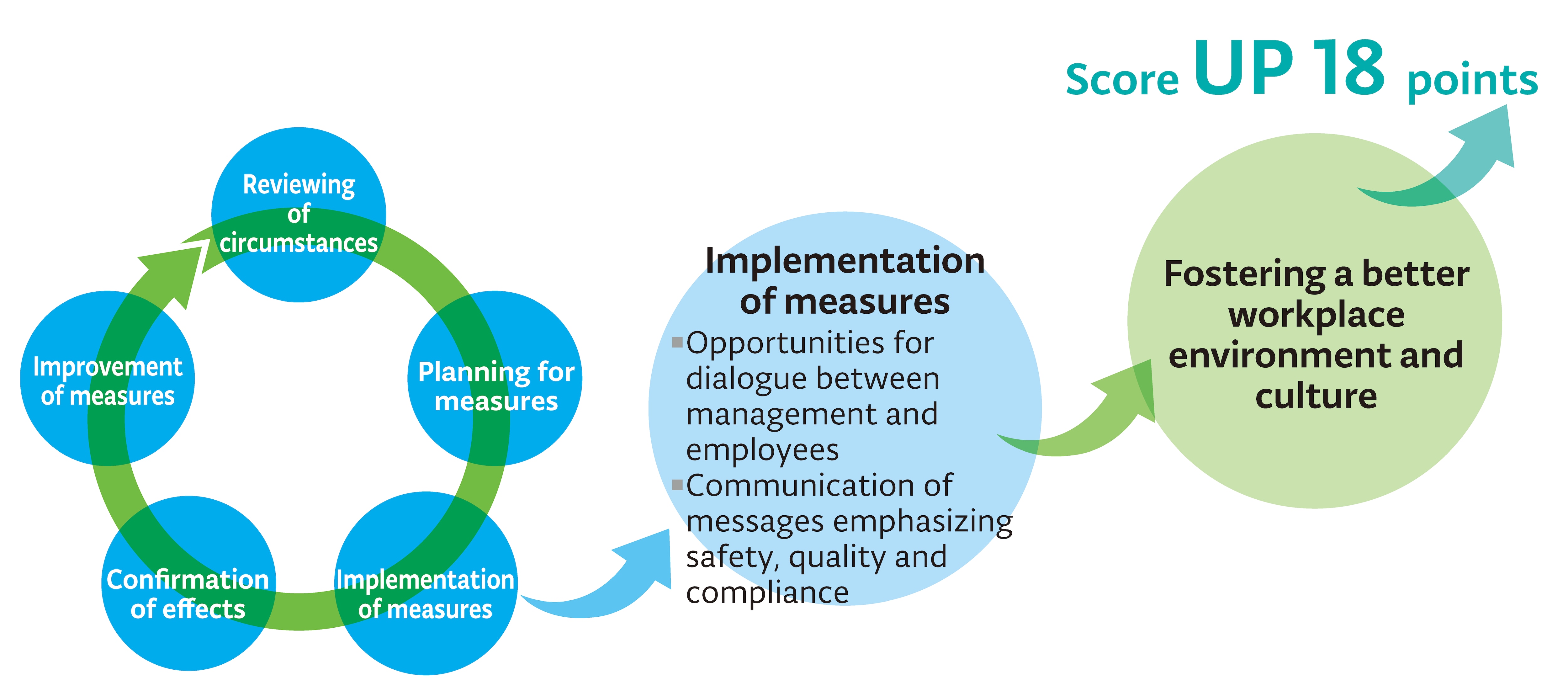 Diversity, Equity and Inclusion (DE&I)
Diversity and Inclusion and Inclusion System and Initiatives
With the strong commitment of managements, we actively promote DE&I as one of management pillars that leads to the continuous generation of innovation and increased corporate value. Based on the idea that "One-TEL and DIFFERENT TOGETHER with 3G (Global, Gender, Generation)", we have taken on gender, nationality and generation as major themes. Each Group company is implementing various initiatives, such as setting the following goals for the ratio of female managers based on the characteristics of each region.
Conduct a diversity-conscious talent pipeline (plan for developing human resources) for succession planning and achieve the goal of increasing the ratio of female managers* to 8% globally and 5% in Japan (by fiscal year 2027)
Ratio of Female Managers
Taking into consideration that many of our employees are engineers, we actively invest in the use of recruiters and employer branding to hire female engineers at a level that is equal to or greater than the general ratio of female engineers*² in each region
Create an organizational structure where even those from outside of Japan can take on corporate roles through the use of technology and shared global human resources systems
We promote collaborations between Japanese employees and employees of overseas subsidiaries, and cross-departmental projects
We organize events such as "DE&I Talks" and other events with internal promotion leaders and external experts, create networking opportunities for employees with similar characteristics and experience, and hold roundtable discussions regarding careers before and after taking maternity/paternity leave and childcare leave
Include experts in the number of managers
The ratio of females majoring in science or engineering
Diversity, Equity and Inclusion Talks (DE&I Talks)
In March 2023, we held a DE&I Talk that was streamed simultaneously online to the Group companies worldwide. As the fifth of these events held, "equity" was added to the discussion this year, with the name "DE&I Talk" being used for the first time. While there have been no significant changes to the original purpose and policy of these talks, this addition aims to more proactively pursue the development of environments where diverse employees can play active roles.
In his opening speech at the event, the CEO stated "By continually driving motivation-oriented management, while improving diversity through our 3G policy, we aim to further grow the company." Guest speakers also helped deepen our understanding of DE&I, with one speech titled "The Importance of Equity: World Trends D&I to DE&I" and another titled Corporate Transformation through Diversity: An Organization That maintains strength through its recognition of the "differences" from LGBTQ+.
Diversity and Inclusion Day
Diversity and Inclusion Day, an online event with simultaneous streaming for Group companies worldwide, was held in February 2022.
In his opening speech, the CEO stated "We need to incorporate all wisdom and diverse ideas to maximize the growth potential of the entire Group. In order to do this, it is essential to promote diversity and inclusion." In addition, members from the U.S. including the president of Tokyo Electron America spoke about the importance of diversity and inclusion at a talk session. From Japan, two outside directors participated in a panel discussion regarding the roles of the Company in a rapidly changing global society. Through this event, the importance of embracing and making the most of diversity was once again confirmed.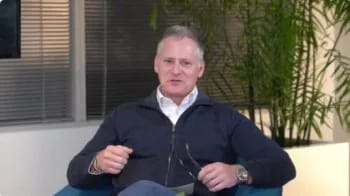 Diversity and Inclusion Day
Diversity and Inclusion Talk Event
To realize a workplace where diverse employees have a better understanding of each other and can play an active role, we have been implementing awareness activities globally. In January 2020, we held a D&I Talk event at our headquarters in Akasaka. The event included guest speakers and a panel discussion, and was well attended by employees.
The event was streamed live to business sites in Japan and overseas in an effort to raise awareness for D&I among all employees in the Group. The second event was held online for global employees to attend.
We aim to further promote D&I throughout the Group.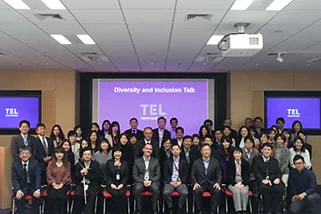 Diversity and Inclusion Talk Event
Main DE&I Activities
As a global, borderless company, we are implementing various initiatives as detailed below to leverage the strengths of our diverse human resources and create well-balanced systems and teams.
We create and publish reports on the DE&I activities of all of our Group companies, including overseas subsidiaries, to make the activities of each site more visible. We also communicate internally and externally through an internal newsletter, intranet, social media and other channels.
We hold Career Design Seminars for Women employees. With voluntary attendance of about 100 employees, participants acquire basic knowledge of such things as self-leadership skills for independent career planning. Participants explore their career potential at us by learning self-centered career design and personal strength-based leadership, etc.
Employees have participated in J-Win*¹ programs since 2021. Enabling participants to meet personal role models and foster a readiness for career advancement, by conducting activities with members of other companies in external environments that have a high level of diversity, the programs help increase willingness to take on the challenge of management positions, or senior director and above positions*².

We established the Employee Resource Group (ERG) to create networking opportunities for employees with similar characteristics and experience. Events are held on an ongoing basis, including Mommy & Daddy Talks, which are roundtable discussions regarding careers before and after taking maternity/paternity leave and childcare leave.

An LGBTQ+ helpline was established in April 2021, and a congratulations and condolences system that includes same-gender partners was adopted from October 1, 2022. The aim is to improve and expand systems and facilities going forward to ensure ongoing development of workplaces where everyone, not just the people concerned, can work with enthusiasm and energy.
New graduates and mid-career recruits are continually employed on the basis of whether they will work actively at us, regardless of gender, nationality, generation or other characteristic, by considering such aspects as their expertise, experience, and expectations for their future.
A competitive remuneration system based on responsibilities and contributions was established for all workers, even when reemploying people after reaching retirement age, to take advantage of experience, knowledge and skills learned at us.
Japan Women's Innovative Network (NPO J-Win) was established in April 2007 as a corporate member-based organization with the aim of supporting the promotion and establishment of diversity management in companies.
Employees of a certain level or position based on the global human resources system
Initiatives at Group companies in Japan
Disclosure of information about women in leadership roles
FY2019
FY2020
FY2021
FY2022
FY2023

Men

Women

Men

Women

Men

Women

Men

Women

Men

Women

Average service
years*

17 yrs.
5 mos.

15 yrs.
8 mos.

17 yrs.
5 mos.

15 yrs.
11 mos.

17 yrs.
7 mos.

15 yrs.
10 mos.

17 yrs.
6 mos.

15 yrs.
8 mos.

16 yrs.
10 mos.

15 yrs.
7 mos.

17 yrs.2 mos.

17 yrs.2 mos.

17 yrs.4 mos.

17 yrs.2 mos.

16 yrs.8 mos.

Use of annual
paid leave*

67.2%

72.6%


62.5%


64.6%

70.0%
Group companies in Japan
Disclosure of the career-track recruits ratio of regular employees in accordance with the Labor Measures Comprehensive Promotion Act.(Disclosure date: May 1st , 2023)
| | FY2019 | FY2020 | FY2021 | FY2022 | FY2023 |
| --- | --- | --- | --- | --- | --- |
| New graduates hired | 199 | 281 | 253 | 209 | 232 |
| Career-track recruits | 213 | 140 | 152 | 391 | 566 |
| Total | 412 | 421 | 405 | 600 | 798 |
| Tokyo Electron Group's Career-track recruits ratio* | 51.7% | 33.3% | 37.5% | 65.2% | 70.9% |
In the Tokyo Electron Group, all new graduate recruitment is done by headquarters. Career-track recruits are done by each of the Group companies
Diversity Activities
Employee Resource Group "DRIVE"
DRIVE is a working group comprising engineers who gather from sites located all over Japan under the vision "To aim to be a company where anyone can play an active role and generate high added value and profits." Members share opinions and actively conduct activities based on the activity policy of creating opportunities to know about diversity and inclusion (D&I), listening to various ways of thinking transcending site boundaries, and developing proposals on creating workplaces where anyone can play an active role.
Activity Report
So far, as opportunities to learn about D&I, we have conducted regular workshops by members and invited external lecturers to give lectures on themes such as promoting women's participation and awareness of unconscious bias. In fiscal year 2021, we conducted an online forum to share problems and concerns about nursing care and a LEGO® SERIOUS PLAY® workshop where employees learn about D&I while using LEGO blocks. Approximately 50 employees participated in these events. Through these activities, employees were able to think deeply and share their awareness about the differences and diversity in their ways of thinking and positions. Going forward, together with creating opportunities for mutual interaction and learning about diverse values through repeated dialogues between employees, we will promote activities that allows such initiatives to lead to the driving force that generates high added value and profits.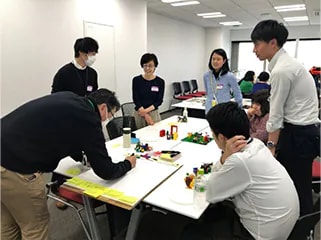 Active Involvement of Diverse Human Resources
We seek to be a corporation where a diverse range of employees can work to their full potential. By developing a workplace where anyone, irrespective of gender, nationality, age, background or ability, can work easily and feel motivated, TEL will promote creation of an environment where the diversity of talent leads to greater competitiveness.
Furthermore, TEL have established an inclusive working environment for people with disabilities. People with disabilities account for 2.43% of employees at TEL headquarters and 2.3% of employees in Japan operations overall. *
As of March 31, 2021
Employee voices | Active Involvement of Employees with Various Nationalities
In 2018 I relocated to Japan and joined Tokyo Electron FE as Co-Leader of the Global FE(Field Engineer) Training Operations Center. Many things have changed in TEL since my first business trip to Japan in 1994. Technology now makes it easy to communicate and navigate in a country where the language and culture are so different from my own. I often use the translation technology that TEL has integrated into the work environment to enhance communication with co-workers in Japan and abroad. As a member of Global FE Training Operations Center and the Global Service Solutions Committee, I collaborate with training and service leaders from all over the world. I've been fortunate to experience TEL's unique culture, which for me is about a team of people who are friendly, helpful, dedicated to quality and focused on building and maintaining good relationships.
For relocating my home and start working in Japan, I have experienced the respect, encouragement, and strong support of my co-workers. I was able to quickly adapt to the office working style and effectively perform my job. I feel included in the team and the experience has been very enjoyable in a comfortable work environment where everyone can work effectively.

GLOBAL FE TRAINING OPERATION CENTER
Expert
Mccloud, Ethan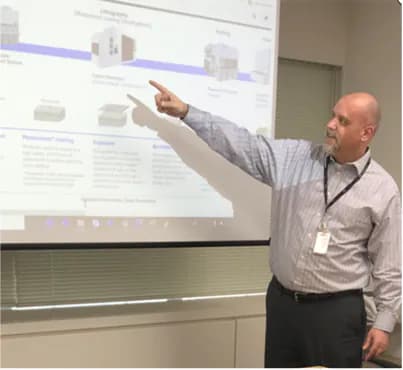 Employee voices | Active Involvement of Employees with Disabilities

After joining the company mid-career, I currently work in the management of the Compliance Policy & Program Group of the Compliance Department. Workplaces not only take measures reasonably to ensure accessibility depending on the type and degree of disability (such as barrier-free designs and permitting commuting to work by car) but also nurture an organizational culture that allows individuals to freely apply themselves without reservation or hesitation even if they have disabilities. Because the environment allows us to see disabilities as positive individual characteristics, I strongly feel that I am able to apply my skills. Going forward, I hope to utilize my strong specialty to bravely undertake new and difficult issues.

Masashi Tamura
Group leader
Compliance Policy & Program Group, Compliance Department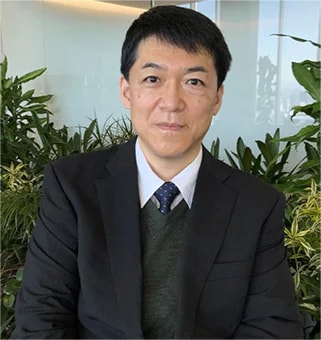 TEL Values
Systems and Initiatives for TEL Values
A total of 17,204* employees are working at Tokyo Electron, which operates worldwide. We believe that each of them maintaining a high level of engagement and demonstrating their full potential will lead directly to our growth as a company.
By sharing with our employees the direction toward which management is aiming and providing platforms for direct dialogue through the employee meetings and discussions held at each site, we are striving to build mutual trust between the organization and individuals. Furthermore, to realize our Corporate Philosophy, we established TEL Values, which delineate Tokyo Electron's values, the mindset that each employee must possess and the codes of conduct to be passed on to the future. The TEL Values—pride, challenge, ownership, teamwork and awareness—are being put into practice by our employees all over the world.
As of March 31, 2023

Human Resource Development
Principles of Human Resource Development
We are making continued efforts for employee education and training while encouraging and supporting employees' proactive approaches toward learning in line with our basic human resource development policy, which consists of the following three principles:
1. Self-motivation and a sense of responsibility are the basic requirements for developing the talents of employees.
2. The workplace supports employee development.
3. The company provides employees with opportunities and incentives to learn and must build the necessary platform or framework.
Global Human Resources System
We operate in 83 sites in 18 countries and regions. We believe it is important for human resources with different cultural backgrounds, experiences and attributes to share values and work together as one toward value creation.
In addition to implementing a common global job-based human resource system (GTC: Global TEL Careerpaths) and this system, we are also focusing on global human resource management to promote career advancement under a common platform without biases against any country or the Group companies affiliation. This allows us to respond to changes in business environments and allocate resources in an agile and optimal manner.
Human Resource Development Concept at TEL UNIVERSITY
We have established "TEL UNIVERSITY" as an internal educational institution for all employees, to support them in building their careers and achieving self-realization through voluntary self-growth. To realize our company's vision of being a company filled with dreams and vitality that contributes to technological innovation in semiconductors, it is essential to develop our human resources. Therefore, each of our group companies conducts education tailored to the needs of each location, in order to carry out effective human resources development. We are creating a foundation for growth where the organization and employees trust each other, and we support lifelong self-growth and rich career formation.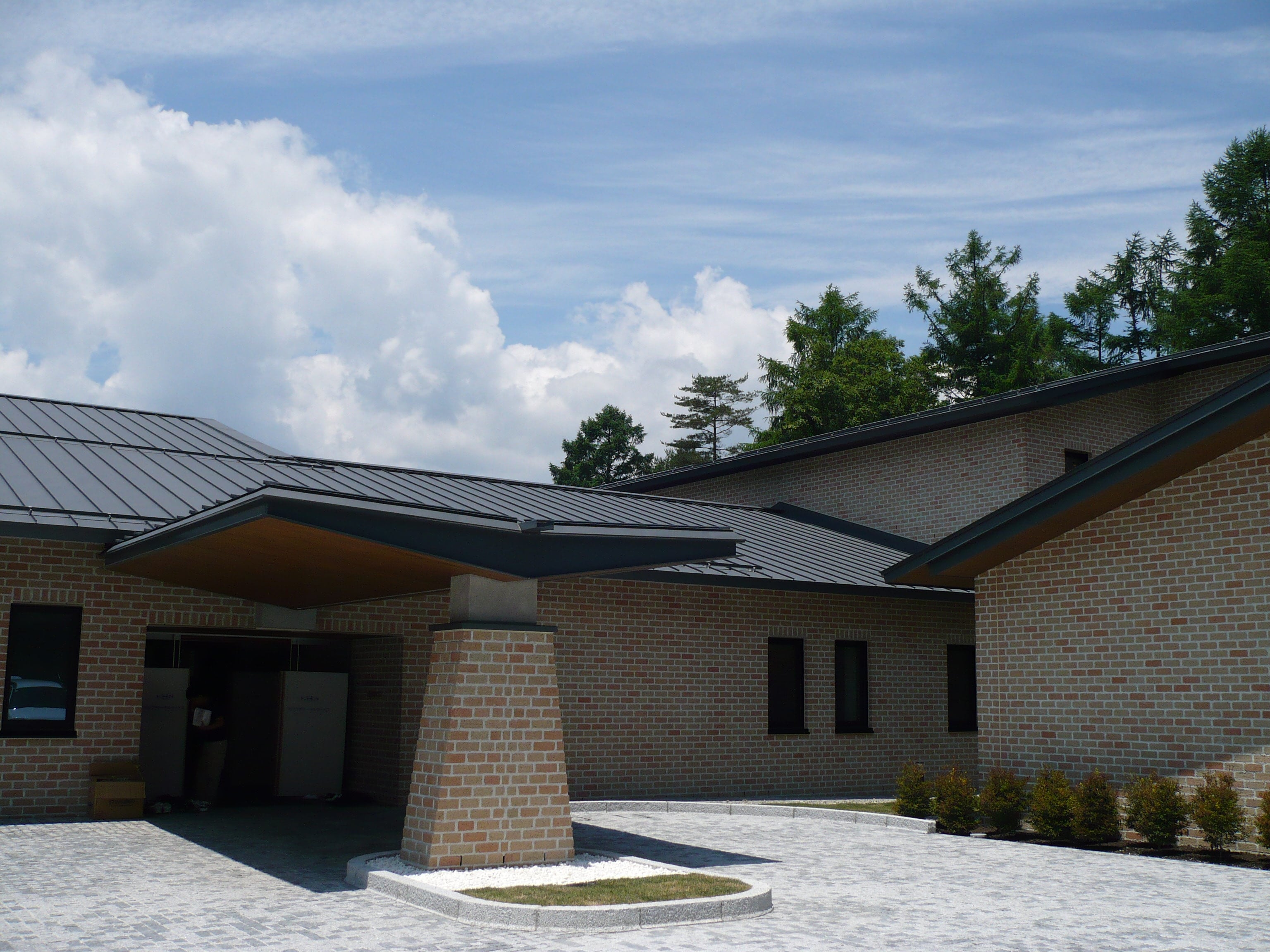 Karuizawa Training Center
Provision of Global and On-demand Learning Opportunities
Since each employee develops differently, we provide on-demand education* that enables learning in multiple languages according to individual needs and timing. In addition to group training, we actively use online education and other methods to provide a common platform for learning from any location in the world.
On-demand education: Education programs that allow employees to learn at their own convenience, anywhere, anytime
Support for Career Development
We are expanding our education programs to help employees quickly acquire basic skills. We also provide information and tools so that employees can gain a more concrete image of their own learning, experience and career development.
Leader Programs
In order to nurture the next generation of leaders to support our future, we identify and systematically nurture staff to take on the role of realizing medium- to long-term corporate value enhancement. We provide next-generation management candidates with opportunities to build networks through participation in events such as external training, to develop a broader perspective, and to receive 360-degree feedback*. In addition, management, including outside directors, conduct systematic assignment considerations and reviews.
360-degree feedback: Process for collecting feedback from the subordinates, peers and supervisors of employees, as well as self-assessments by the employees themselves
Corporate Education System (TEL UNIVERSITY)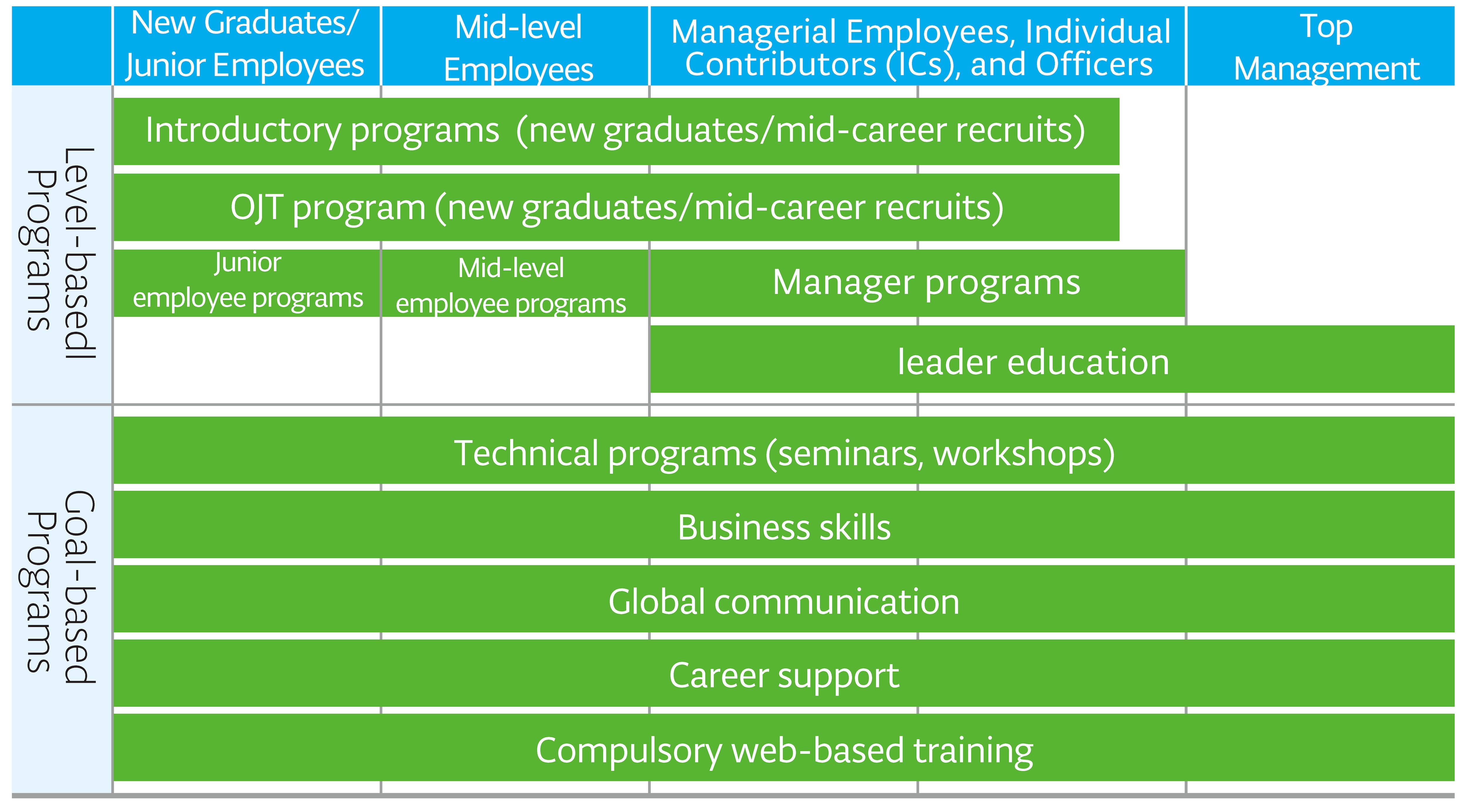 Onboarding Education
We provide important knowledge and skills related to ethics and compliance, information security, environment, safety and quality, risk management, and sustainability at the time of joining the company. We have prepared appropriate programs in accordance with the laws and cultures of each country. Additionally, we are expanding DX basic education to all employees to ensure they understand the importance of DX and can take action towards transformation.
Work-life Balance
Work-life Balance Concept and Systems
We believe that harmony between work and life for each employee produces a synergistic growth effect both of employees and the company, and we are building structures for this.
Our vision is to realize a truly global company that creates high added value and profit. We recognize that in order to achieve this, it is necessary to reduce overtime through efficient work techniques and to have mechanisms in place to evaluate the outcomes. In fiscal year 2018, we began global operation of a new unified human resources system. It clarifies the roles and responsibilities for each employee, sets appropriate targets and challenging targets, provides absolute evaluation of degree of achievement, awards performance bonuses and provides further career opportunities. We aim to encourage greater engagement by evaluating the proactiveness of employees. Furthermore, we will realize creative work styles through awareness of more efficient working, where time gained can be used for learning opportunities and can provide further benefit to our business.
Features of the new personnel system
Rating system
The system clarifies duties (the roles and responsibilities required of the employee) supporting a global way of working
Evaluation system
The system is designed to establish performance goals appropriate to employee level and stretch goals designed to develop the employee, and it assesses the employee based on achievement of (or contribution to) those goals
Remuneration system
In addition to a level of remuneration that is competitive in the market, the system provides the employee with career opportunities as well as a productivity-linked bonus proportionate to their degree of achievement (contribution)
Work Styles and Offices
We endorse work styles that contribute to a positive work-life balance, and are continually working to create environments that facilitate this.
For example, we recommend that both mothers and fathers take advantage of our parental leave systems—one of several childcare leave systems we operate—and this has resulted in a high proportion of our employees returning to work after taking maternity/paternity leave and childcare leave.
We also offer a range of work style programs, such as flextime system that allow employees to work flexible hours, and work for home system. We incorporate user feedback to improve our programs and promote efficient work styles that cater to diverse lifestyles and social situations.
We are engaged in building unprecedented new office environments that are work-friendly for all our employees and that support their endeavors.
To take one example, the Miyagi Technology Innovation Center we opened at Tokyo Electron Miyagi in 2021 features an "Innovation Area," which is a communal space for creating new technologies, and a "Creative Office," which is centered on a bright and open communication space.
We are also working on creating office spaces at our other sites that encourage interactions between different departments and that provide support for new innovations.
Leave System
We believe that employees are more productive when they can properly manage their work hours and take leave. Accordingly, we are working to eliminate long working hours, and to both enhance our leave systems and encourage employees to make use of them.
We have set a medium-term target of ensuring that our employees take 80%*¹ or more of the paid leave available to them. To this end, we educate employees on how to take leave in a systematic manner, we regularly monitor how much leave employees have available and we encourage management styles aimed at improving leave usage rates.
For fiscal year 2023, paid leave usage rates stood at 70%. This was higher than the previous period, despite the fact that COVID-19 discouraged employees from taking consecutive days of paid leave.
We also operate a unique "refreshment leave system" in different countries around the world, depending on the prevailing circumstances.
This system aims to provide both mental and physical refreshment for employees, and so boost their motivation to work. In Japan, employees who have worked at the company for 10 years or more are granted special, supplementary paid leave of between two weeks and one month for every five years of continuous service. In fiscal year 2023, 1,731 employees in Japan and 606 employees overseas took advantage of refreshment paid leave.
We are also working to establish various other leave systems for different life events, including childcare leave, leave to care for a sick or injured child, childcare support leave and paid leave to provide nursing care*².
Employees are permitted to extend childcare leave until the day the child reaches three years of age; employees are now also eligible for the reduced working-hours program for childcare until the child graduates from elementary school.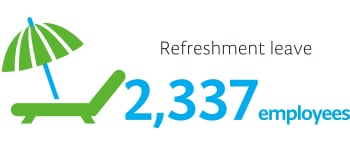 Usage for employees in Japan
Leave to care for a sick or injured child: employees are granted five days of paid leave per year until the child enters elementary school. Childcare support leave: employees are granted five days of unpaid leave per year until the child enters junior high school

Childcare and Nursing Systems・Employee Life Support
Childcare and Nursing Systems
We respect the various lifestyles of its employees and is investing effort into providing an environment where each employee can thrive. In addition, to the system made available by existing laws, we are independently building a substantial framework that allows employees to adopt a flexible approach to work that accords with diverse life events such as raising children or caring for family members.

With regard to the situation in Japan, we have acknowledged the maximum extension of the childcare leave period to the day a child reaches three years of age, as well as expanding our provision of a reduced working hours program for childcare to include employees rearing children as far as graduation from elementary school. In addition to leave to care for a sick or injured child, we are enriching the provision of support through establishment of our own childcare leave, etc. As a result, currently in Japan, 42% of female TEL employees are working mothers. To further our support for the compatibility of work, and nursing care, nursing care leave on full pay is available for up to five days. We are advancing improvement of the system, for instance, by allowing nursing care leave to be taken up to three times per person requiring nursing care for a one year in total.
| System | Overview | Eligible employees | Notes |
| --- | --- | --- | --- |
| Relief for commuting difficulties | Allows work start times and finishing times to be moved forward or back by a maximum of one hour each day | Pregnant female employees who are under instruction from their doctor | As per the legal requirement |
| Childcare leave | (1) Allows leave to be taken up until a requested date but no later than the end of April after the child turns 18 months of age (2) If the child cannot gain admission into a nursery school, leave may be extended from the end of April after the child turns 18 months of age until the child turns three years of age (i.e. the day before their third birthday) | Employees with a child who will be less than 18 months of age at the end of the following April | More than the legal requirement (up to a maximum of three years of age) |
| Childcare time | Allows an employee to request time to care for their infant for two 30-minute periods per day, in addition to prescribed rest periods (treated as paid leave) | Female employees with an infant under one year of age | More than the legal requirement (paid component) |
| Flextime for childcare and nursing care | Allows work start times and finishing times to be moved forward or back by a maximum of 90 minutes per day | Employees with a child who has not graduated elementary school, or who are caring for a family member requiring nursing care | More than the legal requirement (up until the child finishes elementary school) |
| Leave to care for a sick/injured child | Allows leave to be taken for up to a maximum of five days for employees with one child, and 10 days for employees with two or more children, per business year (up to five days treated as paid leave) | Employees with a child not old enough to commence elementary school | More than the legal requirement (paid component) |
| Childcare support leave | Special leave to care for a child for up to a maximum of five days per business year(unpaid) | Employees with a child not old enough to commence junior high school | Unique system |
| Short nursing care leave | Allows leave to be taken for up to a maximum of five days for employees with one family member requiring nursing care, and 10 days for employees with two or more family members requiring nursing care, per business year (up to five days treated as paid leave) | Employees with a family member requiring nursing care | More than the legal requirement (paid component) |
| Extended nursing care leave | Allows an extended period of leave to be taken for up to three times per person requiring care, up to a maximum of one year in aggregate | Employees with a family member requiring nursing care | More than the legal requirement (up to one year of leave) |
Employee Life Support
We are enacting a diverse range of support toward achieving a workplace environment where employees can work energetically while each making full use of their abilities. We present regular opportunities for employees aged 50 or over to attend seminars providing necessary information and review of financial planning, encouraging them to consider their way of working after retirement. Furthermore, we support employees' everyday lives by offering assistance to all age groups on familiar topics such as nursing care for family members and inheritance.
Employee voices | Childcare leave for men
My eldest son was born in November 2018, and I took childcare leave for six months from June 2019. Working in sales means a life with many business trips, and I decided to take childcare leave because I wanted to play an active part in raising my son and support my wife. I also thought it could be my first and also final time to experience raising children. My supervisor respected my intention and I was able to hand over my work based on reassuring support. During childcare leave, I was close to my son as he grew each day, and I recorded things down in a childcare diary. I look forward to looking back on this precious time someday together with my family. When I returned to work, I was able to go back to the same team. I am sincerely grateful to my supervisor and colleagues. Taking childcare leave became an opportunity to learn about the importance of being involved in raising children and the difficulty of raising children, which continues without a break. At the same time, I think it also led me toward a work attitude of being further aware about improving efficiency.

Kiyohisa Motoda
CT Product Group
Field Solutions Department 1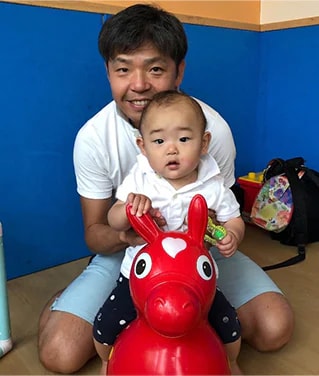 Management foundation