Tokyo Electron (TEL) in Hsinchu, Taiwan, a group company of the leading semiconductor production equipment manufacturer TEL, has been sponsoring the TEL Robot Combat with the purpose of identifying promising engineering talents. For the 2017 games, TEL in Hsinchu, Taiwan held preparatory briefings at a number of university campuses across Taiwan beginning in September 2017, attracting entries from over 30 universities. The participants consisted of students of science and engineering departments, including those majoring in machine engineering, electric machine engineering, electronic engineering, chemical engineering, materials engineering, and science engineering. After a month of intense regional competitions, 18 teams made it to the finals held on November 25 at Penglai B6 Warehouse in the Pier 2 Art Center in Kaohsiung.
The final tournament featured exciting combats as well as some entertaining competition categories. In the team spirit award category, for example, the teams competed to shout their team slogans louder than the others. In the assembly speed award category, the teams competed to take apart and reassemble their robots as fast as they could. And in the decoration award category, the students dressed their robots in a creative manner, competing for aesthetic superiority. As prize money was offered to category winners, competition was very intense as well as uniquely entertaining.
In the combat category, Team "Very Excited" (很有興機) from National Chung Hsing University won the top prize, followed by Team "Eric Believer" (Eric信徒) from National Taiwan University and Team "Burning Legion" (燃燒軍團) from Southern Taiwan University of Science and Technology. The team spirit award was won by Team "Rocker in Infinite Hand Strength" (搖桿在手力量無窮) from National Taipei University of Technology, the assembly speed award by Team "Eric Believer" (Eric信徒) from National Taiwan University, and the decoration award by Team "Oh! Xiaoxin Is Here" (Oh!小信來了) from National Cheng Kung University.
The participants' mastery of robotics and high levels of creativity impressed the referees and other officials of the event. TEL in Hsinchu, Taiwan hopes that the practical experience gained through this competition will deepen the students' knowledge and interest in technology and machinery, making them a leading force in the high-tech industry in the future.
半導體大廠Tokyo Electron(TEL)台灣子公司-東京威力科創,為了發掘及吸引更多產業人才,特別舉辦了「東京威力科創機器人大賽/TEL Robot Combat」,自今年(2017)九月份起,深入全台各大專院校辦理機器人大賽校園說明會,引起相關科系學生的熱烈討論及報名參賽。此次機器人大賽共吸引了超過30所大專院校的理工科系同學組隊參加,涵蓋了機械工程、電機工程、電子工程、化學工程、材料工程、科技工程等科系。歷時近一個月的北、中、南三區初賽,最終晉級至總決賽的18強皆實力堅強,於11月25日高雄駁二藝術特區-蓬萊B6倉庫展開激烈對決。
總決賽當天的賽程除了刺激的格鬥比賽,另外也規劃具趣味性的系列賽,像是展現團隊默契的「團隊精神獎」比賽,各隊須準備隊呼並以宏亮的嗓音與默契決勝;「超神速技術獎」則要再次的考驗各隊選手對機器人的拆解與組裝能力,全場最快速完成的隊伍即獲勝;另外,更規劃需發揮創意與美感的「最佳造型獎」,這些理工科系的同學們需運用各自巧思妝點機器人。以上比賽項目都設置個別獎金,現場戰況十分激烈。
最終由中興大學所組成的「很有興機」勇奪冠軍,亞軍由臺灣大學所組成的「Eric信徒」獲得,季軍則由南臺科技大學所組成的「燃燒軍團」隊獲得,團隊精神獎由臺北科技大學組成的「搖桿在手力量無窮」獲得,超神速技術獎同樣由亞軍隊伍「Eric信徒」獲得,最佳造型獎由成功大學所組成的「Oh!小信來了」獲得。
參賽同學對於機器人的熟悉與創意的展現讓裁判們留下非常深刻的印象。此次活動辦理目的在於培育大專院校在校同學,對於機械與科技的理解及應用,並激發同學對於機械等領域的嚮往,在未來能活耀於相關領域,為高科技產業奠定良好的基礎。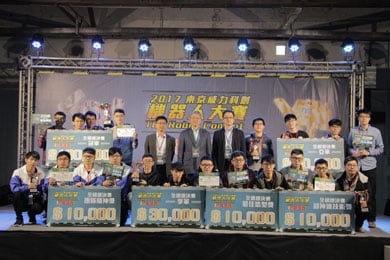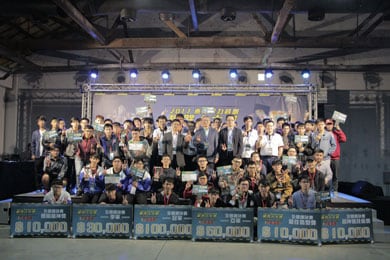 About Tokyo Electron
TEL, established in 1963, is a leading manufacturer of semiconductor and flat panel display production equipment. TEL has 75 operating bases for research & development, manufacturing, sales, and service in 16 countries and regions in North America, Europe, and Asia, offering the latest equipment and services of the highest quality. TEL in Hsinchu, Taiwan is located within the Hsinchu Science Park.
關於Tokyo Electron
Tokyo Electron (TEL)成立於1963年,為半導體以及平面顯示器製造設備的領導先驅,全球皆設有研發、製造、銷售共75個據點,遍佈美國、歐洲、亞洲等16個國家,致力於提供最先進的設備以及最優質的服務。東京威力科創台灣總部位於新竹科學園區。