Tokyo Electron Taiwan Protects Scenic Coastline Cooperating with Citizens in a Cleanup Initiative / 東京威力科創攜手民眾 淨灘作公益 守護海岸線
Tokyo Electron (TEL) in Hsinchu, Taiwan, a group company of the leading semiconductor and flat panel display production equipment manufacturer TEL, held a beach cleanup event on June 17 in Hsinchu where the company is located. Conducted as part of the "TEL's Social contribution", the cleanup activity for preserving the beautiful Taiwanese coastline is tied to a donation program, in which the company dishes out an amount proportionate to the number of people who participated in the cleanup and the volume of collected waste. All donations will be given to an institution that supports people with disabilities.
On the day of the event, many TEL employees, their families, and citizen volunteers gathered at the Kanhai Park in Hsinchu. After doing a light calisthenics routine guided by a professional trainer, the participants were divided into groups to clean the beach. All participants worked hard together despite the scorching sun, and the employees took this opportunity to reaffirm their commitment to preserve the environment. Many citizens who happened to be strolling on the beach also joined in the action. Furthermore, used items were collected at the venue for recycling, and Taiwanese receipts (with lottery numbers) were exchanged with giveaway items, both of which proved very popular. More than 150 people participated in this event, collecting over 300kg of plastic waste and other refuse that resulted in a donation of NT$450,000. The cash donation and collected receipts will be given to the National Nantou Special School, to which the company has been making donations since last year.
TEL in Hsinchu, Taiwan will continue to engage in various TEL's Social contribution in and outside the company.
TOKYO ELECTRON (TEL) 身為國際領導品牌的半導體以及平面顯示器製造設備商,在台子公司東京威力科創,於6月 24日作為TEL FOR GOOD活動的一部分,號召員工、家屬及民眾於公司所在地新竹市舉辦守護台灣的美麗海岸線淨灘活動。此淨灘活動將參加人員數加上垃圾總量轉換成公益金,預定捐贈給身障社福單位。
東京威力科創員工與自願參與的民眾,活動當天集結在新竹市看海公園,在專業健身老師的帶領下,以健身操暖身為活動作準備,之後即分組展開淨灘活動。天氣雖然炎熱,許多參與者與東京威力科創的員工透過這次的活動,再次體會到環境愛護的重要。此活動不僅吸引了來看海的民眾主動加入,現場的資源回收與發票換好禮活動也引起熱烈迴響。當天有超過150名人員參與,清理超過300公斤的塑膠垃圾與廢棄物,將垃圾總量及人數轉換成公益金,最終結果達到45萬台幣。當天所有公益金及所募得之發票,預定將贈予從去年以來東京威力科創一直持續捐助的「國立南投特殊教育學校」。
東京威力科創今後也會於公司內、外舉辦各種TEL FOR GOOD活動。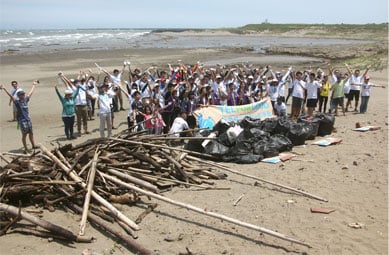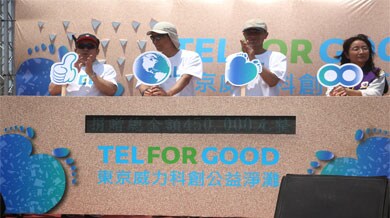 About Tokyo Electron
TEL, established in 1963, is a world-leading manufacturer of innovative semiconductor and flat panel display production equipment. TEL has 75 operating bases for research & development, manufacturing, sales, and service in 16 countries in North America, Europe, and Asia (as of April 1, 2017), offering the latest equipment and services of the highest quality. TEL in Hsinchu, Taiwan is located within the Hsinchu Science Park.
Contact: PR Office, TEL in Hsinchu, Taiwan
Phone: +886-3-666-2266
關於TEL
TEL總部成立於1963年、作為全球創新半導體以及平面顯示器製造設備的領導先驅、全球皆設有研發、製造、銷售共75個據點(2017年4月1日為止)、遍佈美國、歐洲、亞洲等16個國家、致力於提供最先進的設備以及最優質的服務。東京威力科創台灣總部位於新竹科學園區。


新聞聯絡人
東京威力科創(股)有限公司
公共關係室
電話: 03-666-2266