Promotion of Improved Productivity
Initiatives of Digital Transformation (DX)
Based on the idea that digital transformation initiatives are a means and an opportunity to achieve the management vision and the company management plan and to create corporate value, in January 2021, we formulated the TEL DX Vision: "A global company where all employees drive enterprise value creation sustainably through activities such as value addition and efficiency improvements by leveraging digital technology" and the DX Grand Design.

The main purpose of digital transformation activities is to digitally accelerate and strengthen the key management measures of the "four material issues," with product reform*1 and business reform*2 as the main activities. In product reform, we will solve high-level issues while repeating the processes of 1. Recognition (sensing and monitoring), 2. Analysis and prediction, 3. Control and 4. Learning and evolution (autonomous), and we will strive to improve customer value. In addition, in business reform, we will grasp the current state of internal business, as well as envision how work should be like and change the way we use digital tools and our business methods to improve the company's capital efficiency.

At the same time, we are promoting the use of digital technology in our management foundation and business support departments, which are necessary to carry out these activities.

In addition, we will define the human resources necessary for promoting DX (DX engineers), design a training plan for each necessary skill and actively work on this training. Furthermore, we are not only training DX engineers but also employees that can use data in their everyday work.
Product reform: Contributing to customer value creation in a variety of situations, from development to mass production
Business reform: Improving capital efficiency in a variety of situations, from the product planning stage to maintenance.
TEL DX Grand Design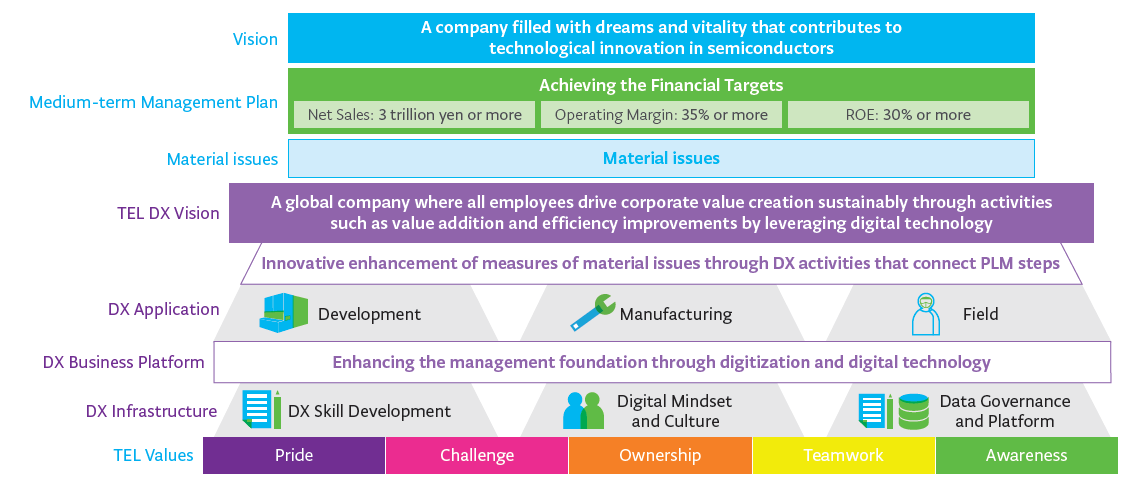 Continuous Improvement of Business Operations
We are implementing a new enterprise system (ERP*1) to further improve productivity and quality. This system is operated across business and country boundaries, to (1) significantly improve operational efficiency, (2) make management decisions that respond quickly to changes and (3) create new value by utilizing globally integrated information with an eye toward overall digital transformation.

We have completed the implementation of this system at the headquarters in fiscal 2022 and at the spare parts warehouse in Japan in fiscal 2023. Going forward, we will make maximum use of the knowledge we have gained through the process so far, and will proceed with the implementation of the system to our overseas subsidiaries and manufacturing sites in Japan. In addition, we will work with our partner companies to realize a globally integrated system by developing functions and others to improve operations, increase efficiency and further enhance system performance.

ERP: Enterprise Resource Planning. A system that integrates the core business operations of an enterprise, such as accounting, personnel, production, logistics and sales, for better efficiency and centralized information.
Initiatives for Higher Productivity
As a manufacturer of semiconductors and flat panel display production equipment, we are committed to continuously improving productivity while remaining focused on safety and quality in operations along the entire value chain.

Specifically, under the slogan "Safety First*1," we are striving to improve the safety and work environments of every person connected with our business activities, and at the same time, we are building quality management systems and pursuing quality improvement throughout the value chain in order to understand the true needs of our customers and to achieve the world's best quality. We are also conducting company-wide activities for compliance with safety and environmental laws and regulations and to make software development more efficient and smarter.

In manufacturing operations, our current initiatives include labor saving in production through a system that links BOM*2 to MES*3, and transforming production performance into a Digital Twin*4.

Furthermore, to respond swiftly to customer requests and market fluctuations, we have built a production system that centralizes all information related to production, and have developed an IT infrastructure with manufacturing execution system (MES) and a supply chain management (SCM)*5 system.

By utilizing the wide range of data aggregated through these systems in each business operation, we are working on optimizing and streamlining production planning as well as visualizing delivery dates of parts by strengthening information coordination with our suppliers. We are also promoting comprehensive
improvement of business productivity by achieving stronger coordination between sales planning and production/procurement/inventory planning.

Additionally, in our manufacturing and logistics operations, where we deal with a wide variety of components, we are also working on labor savings and efficiency improvements by establishing automated warehouses, introducing a warehousing navigation system and promoting automated inspections.
Safety First: Company slogan that prioritizes the safety of every person connected with our business activities
BOM: Bill Of Materials. This shows the hierarchical structure of the product and includes basic information of each part, including which parts are used to assemble the product.
MES: Manufacturing Execution System. A system for understanding and managing production processes and for providing instructions and support to workers.
Digital Twin: A "Twin in digital space" refers to a technology that copies and replicates various data collected from physical objects in the real world onto a digital space.
Manufacturing execution system (MES) and a supply chain management (SCM): Refer to Continuous Improvement of Business Operations
Higher Productivity through Digital Transformation (DX)
We aim to enhance product competitiveness and improve capital efficiency in various operational processes— from the product planning stage to maintenance—by promoting DX.
HVM: High Volume Manufacturing
In our DX activities, regarding the 13 risks*, we implement a risk management PDCA cycle that includes formulating and executing measures to minimize these risks, monitoring the state of management and supporting and promoting risk management activities of the various departments.

We are building a system that allows appropriate risk management at the right time through real-time monitoring of risks, control measures and implementation state across the entire Group while collaborating with the overseeing organizations in our headquarters. The purpose is to conduct fast risk detection and decision-making from the perspectives of data and digital technology utilization.

Furthermore, we are also making clear the human resources necessary for the promotion of DX and are formulating and training plans to develop the respective skills needed. In parallel, we are also carrying out human resource development to provide all employees with a minimum level of DX knowledge.
We will continue to focus on the promotion of DX and utilize digital technology to improve productivity in everything from accelerating the speed of development, improving productivity and quality and enhancing business efficiency to reforming work styles.
13 risks: Risk Management Initiatives
Higher productivity