Notification
Jul 20, 2017
Tokyo Electron Secures a GUINNESS WORLD RECORDS™ Title with an AR Enhanced Periodic Table
Tokyo Electron (TEL) achieved a GUINNESS WORLD RECORDS title on June 30, 2017 for its newspaper ad presenting a periodic table of elements with augmented reality (AR) features.

The GUINNESS WORLD RECORDS title was granted to TEL for using 119 AR features in its July 28, 2015 ad -officially recognizing the number as the "Most augmented reality features in a newspaper advert."
The periodic table in this ad featured 118 sections called element cards. When a smartphone running a dedicated AR app is held over any one card, information on the respective element is displayed using text, photos, and videos, helping users to learn about the element while having fun.

An official record holder certificate was presented by an official GUINNESS WORLD RECORDS adjudicator on July 19, in a ceremony held at the TEL headquarters in Akasaka, Tokyo.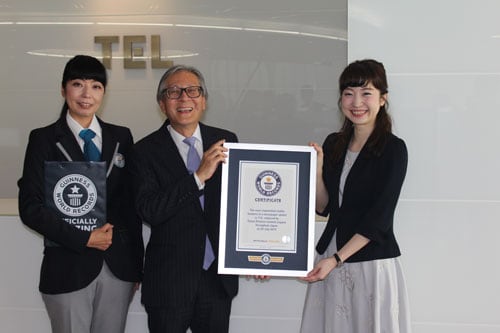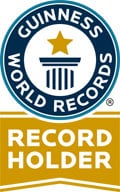 As part of its support for education in science, technology, engineering, and math (STEM), TEL has been running a newspaper ad every year featuring a fun-to-learn periodic table since 2012. The series has been highly acclaimed as a valuable reference material that makes accurate scientific information approachable and easy to understand.
As several new elements have recently been confirmed to exist through experiments and named officially, including Nihonium that was formally declared last year, TEL will shortly release the latest version of the periodic table (2017 edition) as part of its newspaper ad.
As a market leader in the field of semiconductor and FPD production equipment, TEL strives to contribute to the development of a dream-inspiring new IoT society through our leading-edge technologies and reliable service and support.
Further information about the periodic table featured in the ad can be found on the following site:
Special site on Dr. Elements' periodic table (in Japanese)
https://www.tel.co.jp/genso/
*GUINNESS WORLD RECORDS™ is a registered trademark of Guinness World Records Ltd.