Tokyo Electron (TEL) announced today that it would construct a new development building at the Hosaka Branch Office (Yamanashi Prefecture) of its manufacturing subsidiary, Tokyo Electron Technology Solutions Ltd., to meet the recent rise in demand in the semiconductor market.

As the shift toward a digital society accelerates technological innovations, the market for semiconductors and flat panel displays is expected to grow further.

Continued progress in patterning technology are fueling the prospect of growth for the products developed and manufactured by Tokyo Electron Technology Solutions. Construction of the new building will further expand TEL's technology development capabilities. This will facilitate timely delivery of products that satisfy the needs of the market and TEL's customers, which in turn will contribute to sustainable medium- to long-term growth of the company and to the advancement of society.

Construction of the new building is scheduled to start in September 2021 and be completed in Spring 2023.

[Building Summary]
Location: 650 Mitsuzawa, Hosaka-cho, Nirasaki City, Yamanashi
Total floor area: Approx. 22,000 m²
Structure: Steel frame structure with a base isolation system
Number of floors: 4 above ground, 1 basement
Construction start: September 2021 (scheduled); Completion: spring 2023 (scheduled)
Construction cost: Approx. 11 billion yen
Purpose: Development of semiconductor manufacturing equipment (including deposition and gas chemical etch systems), development of patterning and process integration technologies

[Business Profile of Tokyo Electron Technology Solutions]
Head office: 2381-1 Kitagejo, Fujii-cho, Nirasaki City, Yamanashi
Branch offices: Tohoku, Hosaka, Fuchu
Line of business: Development and manufacture of thermal processing system, single-wafer deposition system, gas chemical etch system, test system, and FPD plasma etch/ash system

Completion image of new building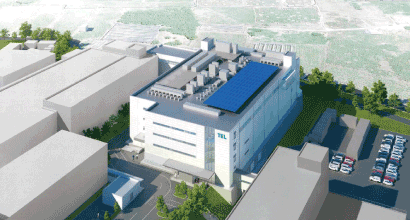 Completion image of new building (front view)