Is Google Glass going to be the iconic wearable computer?
HMDs are not only used for watching audiovisual content such as movies, but also serve as computer monitors. HMDs combined with ultra-small computers are known as wearable computers. Several companies already market wearable computing devices consisting of a hip-mounted computer connected to an HMD with a cable. These are mainly for enterprise use and rather expensive, so no one imagined such devices could possibly catch on among consumers-until Google announced in June 2012 the development of Google Glass, which could be a game changer. Google Glass is an eyeglass-like device with an integrated monocular HMD, and represents an evolved form of wearable computing.
Featuring a built-in microphone and camera as well as the voice input function, Google Glass is a futuristic device that could be straight out of science fiction. Although still a prototype, it is stylishly designed and snugly fits the face surrounding the eyes. Google is developing this device for all kinds of daily use. Initially, the company plans to ship the Google Glass Explorer Edition for professional developers early in 2013, followed by a consumer version in less than a year after that.
Photo

NEC Tele Scouter wearable computer supports the Windows Embedded CE 6.0 operating system.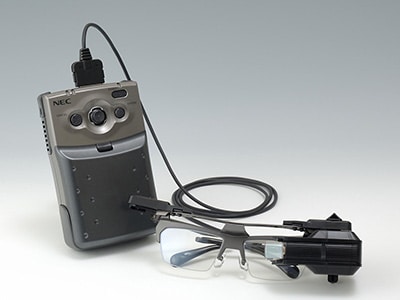 Photo

Google Glass, an eyeglass-shaped wearable computing device being developed by Google, comes with a built-in microphone and camera and supports voice input.