HMDs' advantages and disadvantages
Although HMDs have been on the market for quite some time now, they are not widely used, except perhaps in some specific lines of business. The consumer-use HMDs that debuted in the late 1990s with fanfare did not sell well after all, and some manufacturers discontinued their models in the 2000s. Compared with regular displays, these HMDs had distinct advantages as well as disadvantages. The advantages included the following:
· HMDs take up less space than conventional displays.
· They consume less power.
· Binocular HMDs are suitable for 3D viewing.
And here are some of their disadvantages:
· The viewing experience cannot be shared with others without using multiple units.
· Watching subtitled movies, etc. can cause eye strain.
· Early products had low resolution and poor picture quality.
The emergence of next-generation HMDs
While these disadvantages posed a serious threat to the general acceptance of HMDs at first, steady progress in technology has led to recent announcements of remarkable new-generation products that have conquered the earlier shortcomings of HMDs.
Most notable among these is the HMZ-T1 announced by Sony in November 2011. It uses two organic light-emitting diode (OLED) panels with 1,280 x 720 pixels, addressing a major customer concern about picture quality. As it was also 3D-enabled and reasonably priced, the product was instantly in great demand. As supply could hardly keep up, Sony had to issue apologies for customers about the long wait list.
A prototype codenamed MEG 4.0 announced by Olympus in July 2012 is also indicative of a new direction HMDs are heading. The MEG 4.0 is an ultra-small HMD, or "wearable display" as the company calls it. Olympus claims to have invested its entire portfolio of technologies into the development of this device. Previous HMDs were typically large and clumsily designed, and even the transparent displays were too odd-looking to be acceptable for daily use. The MEG 4.0, in contrast, can be easily attached to eyeglasses. The design is natural-looking enough, and the weight is less than 30 grams with batteries, making the device suitable for everyday use.
Photo

Sony HMZ-T1 uses OLED panels to achieve excellent resolution and contrast.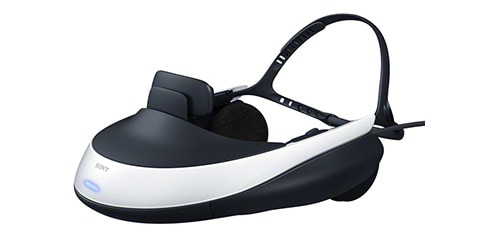 Photo

Olympus MEG 4.0 ultra-small HMD prototype adopts the proprietary split-pupil see-through optical system to display images without obstructing the natural field of view.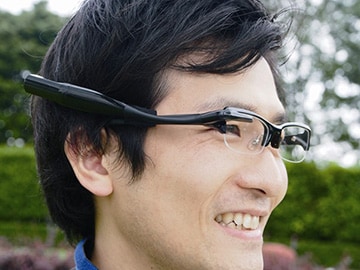 Photo

The MEG 4.0 supports Bluetooth 2.1 for wireless connection with smartphones and other devices.