How Society Will Change in the Digital Age
Report Series
Numerous large-scale acquisitions took place in 2015 and 2016 as the semiconductor industry used M&A to deal with uberization (Fig. 3). Examples include Softbank's acquisition of CPU core giant ARM for more than three trillion yen, and other acquisitions such as Qualcomm's of NXP, Intel's of Altera, Avago's of Broadcom, and Analog Devices' of Linear Technology. Even in 2017, Broadcom made a proposal to acquire Qualcomm, but due to opposition from Qualcomm, it developed into a hostile takeover that has yet to be settled.
Figure 3. Many semiconductor M&A agreements took place between 2015 and 2016


Source: IC Insights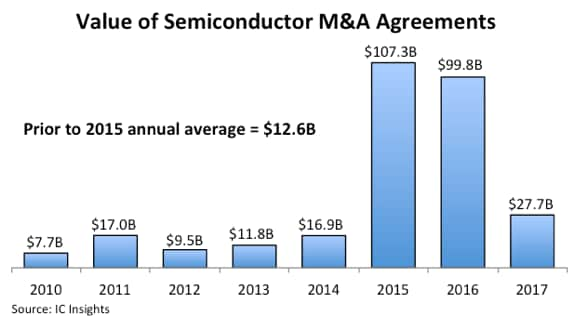 Digitalization created uberization, but digital transformation has yet to reach full momentum. Industry 4.0 is an initial stage of digital transformation and centers on machinery in factories and autonomous equipment. It offers many new possibilities, including the use of AI analysis to give value to data, moving from connectivity between machines to connectivity between factories, and conducting thorough simulations in the design phase to facilitate lean and efficient startup for factories.
Although factories and offices have called for a paperless workplace for many years now, paper has yet to disappear. Advanced factories, however, have almost eliminated the use of paper. These factories acquire any information they need as electronic data, and can even store activity data of employees.
In the office, software robots, or RPA (robotic process automation) is being used to automatically send email replies to customer inquiries. RPA even automates the process of re-entering inquiries that come in different formats such as Excel, PDF, Word, and fax.
If RPA can be automated into autonomous robots through AI-driven data analysis and learning, it will allow digitalization to make even bigger strides in the future.
The contents of the article is at the time of announcement.
Writer
Kenji Tsuda
International technology journalist, technology analyst
Kenji Tsuda is a freelance technology journalist who writes both in English and Japanese. With over 30 years of work experience covering the semiconductor industry, Tsuda has been offering various insights to the industry through his blog (newsandchips.com) and analytical articles. He is editor in chief of the Semiconportal site (www.semiconportal.com) and writes the "Car Electronics" article series for Mynavi News site as a columnist.
Tsuda started his career as a semiconductor device development engineer, before becoming a reporter for the Nikkei Electronics magazine at Nikkei McGraw-Hill (now Nikkei BP). At the company, he created several magazines including Nikkei Microdevices (in Japanese), Nikkei Electronics Asia, Electronic Business Japan, and Design News Japan (in English), and Semiconductor International Japanese Edition. Tsuda went freelance in June 2007 as an international technology journalist. Books he authored in Japanese include Megatrend in Semiconductors 2014-2023 (Nikkei BP), Why We Shouldn't Let Go of the Semiconductor Industry (Nikkan Kogyo Shimbun, Ltd.), The Truth about the European Fabless Semiconductor Industry (Nikkan Kogyo Shimbun, Ltd.), The Latest Trends in Green Semiconductor Technology and New Businesses 2011 (Impress Corp.).