How Society Will Change in the Digital Age
Report Series
Travel industry also affected
The travel industry is also seeing significant impact from an app called Airbnb. As with Uber, Airbnb is an app that requires both the lender and borrower of a property to register in advance. In the case of this app, the lending party is not offering a hotel or inn, they are offering private homes for rent. Existing laws in Japan did not authorize the provision of lodging for compensation in private homes. However, the Private Lodging Business Act (New Private Lodging Business Act) that will go into effect from June 2018 will make it legal to rent a part of a home for compensation.
This app will deal a major blow to budget inns and hotels. However, because of the diverse array of lodging facilities ranging from capsule to high-end hotels, Airbnb may not be rejected in Japan as much as Uber was. Still, travel agents will most likely be severely impacted.
Uber has become established
Companies that develop apps like Uber and Airbnb have caused a major impact on what were previously completely unrelated industries. While Uber has the taxi industry trembling with fear, the government and regions that refuse to accept their presence risk falling behind in terms of transportation. Airbnb is making a major impact on the travel industry and the accommodation industry by creating organization for private lodging.
Uber is already established in the US state of California, where it is now more difficult to catch a taxi. In fact, using a taxi in Silicon Valley as of February 2017, it was necessary to call one from where I was visiting, or have one called at a high-end hotel. In contrast, almost everyone I met had the Uber app installed on their smartphones. People who regularly drive to work are also installing the app in case they would rather not drive or are unable to drive, such as to go to the airport or to go out for drinks.
Car sharing businesses like Uber are also becoming popular in China. There, state policy preferences domestic development as much as possible over the introduction and use of US-developed apps and hardware. China has its own websites and apps that offer virtually the same features, such as Baidu for Google, Weibo for Twitter, and WeChat for LINE. Uber is no exception, DiDi and Kuaidi are similar apps developed in China.
Borders between industries are becoming ambiguous
The wave of uberization provides a narrative on how the borders between various industries are becoming ambiguous (See Reference 2). Uber and Airbnb have shown us that even app developing companies can enter the taxi or travel industry. Conversely, existing companies need to do more than just prepare for the invasion of digital companies, they need to work hard at changing the value chain and raising the value of their companies.
For example, Fitbit, a fitness company, developed a bracelet-style activity tracker that combines a consumer electronics device with healthcare. Monsanto, the biochemical company, is working to realize "data-driven farming," by creating real-time tools to help farmers maximize crop yields, while defense contractor Lockheed Martin has partnered with Illumina to develop personalized health management solutions, according to a report in IBM's C-Suite Study, "Redefining Boundaries," 2015 edition (based on research conducted by IBM targeting management level executives, the so-called "C-class": CEO, CFO, CIO, COO, etc.).
Waves of uberization are also approaching the semiconductor industry
The invasion by digital companies is also occurring in the semiconductor industry, with companies like Google and Amazon developing semiconductor chips of their own. Google originally started as a company that provided search services, and over the course of time, accumulated an enormous amount of word data. They utilized the manner in which words evolve into similar words, and similar meanings, and developed this into machine learning and deep learning, which created today's boom of AI. In order to do a word search, rather than using existing GPUs or processor chips, better efficiency is achieved by using a TPU (tensor processing unit) as a semiconductor chip designed specifically for doing searches based on machine learning and deep learning (Fig. 2). As a result of this, the power consumption of a TPU chip is less than a tenth of conventional processors.
Figure 2. TPU, the AI chip developed by Google


Source: Google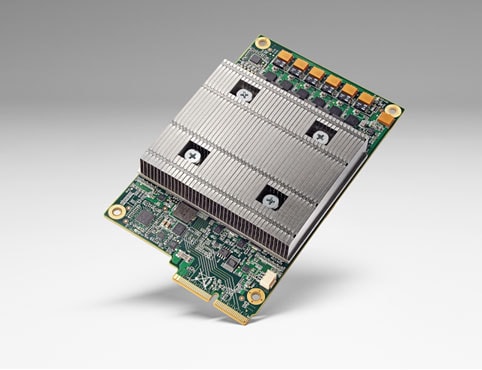 In addition to Google, IBM is also developing an AI chip specifically for machine learning and deep learning. The chip, known as a neuromorphic semiconductor, mimics the human neural network. These devices have extremely lower power consumption.
Amazon, the online shopping company, acquired Israeli semiconductor manufacturer Annapurna. This gave Amazon the ability to design network gateway semiconductors, and currently they are in the process of developing an AI chip. Tesla, the electric car manufacturer, has announced an AI chip, and is also developing an AI semiconductor chip.
Facebook is trying to design an AI engine using an Intel chip (see Reference 3). The dedicated neural network chip for Intel was designed by Nervana, which Intel acquired in 2016.