How Society Will Change in the Digital Age
Report Series
Industry 4.0 even changes business models
If machine failures could be predicted in advance by incorporating IoT into production machines, it would allow parts to be replaced before they fail, thereby reducing down-time. IoT could also be used to analyze the causes for poor yield rates, which could be addressed to increase product rates and productivity. This is where Industry 4.0 comes in. It proposes to revolutionize the manufacturing industry by utilizing IoT.
Corporate giants such as GE and Rolls Royce are changing their business models with Industry 4.0. By predicting machine failure and replacing parts that are likely to break down in advance, it is possible to build jet engines and wind turbines that will function for 20 years without failing. In addition to the manufacture and sales of engines and turbines, it opens doors for businesses that charge by quantity, such as charging air fares by miles flown, or wind-powered energy by kilowatts generated. Machines that fail in a short amount of time cannot be guaranteed in units of time. Industry 4.0 would not only raise productivity, it would also change the business model.
IoT does not refer to just the sensor terminal, it is a term that encompasses the collection, organization, storage, and analysis of a variety of data from the sensor, and the entire system that converts this into meaningful information (Figure 4). For this reason, device designers and device makers are not the only ones on the IoT team. They are joined by firms that analyze or design and sell the tools for analyzing big data. Once data is collected with IoT and converted into information, it must be used as feedback for tuning the sensor that provided the data.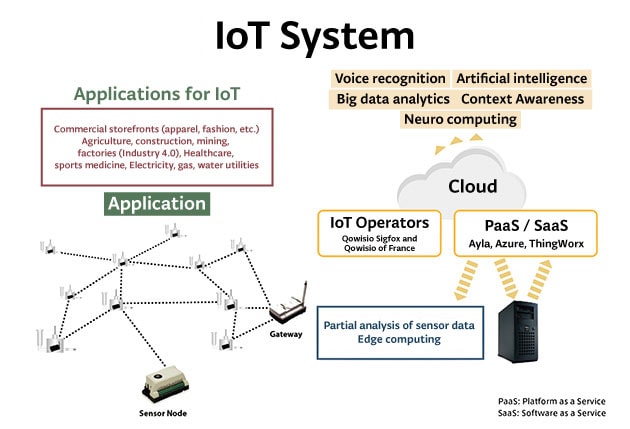 Figure 4. IoT system concept


Created by: Kenji Tsuda
For this reason, parts manufacturers must understand the meaning of this data. Unless the vital information converted from the data is obtained and leveraged to calibrate the sensor or improve the characteristics of the IoT terminal, it will be impossible to take the initiative of the IoT system. In turn, this means that it will not be possible to win the trust of the customer.
Digitalization implies an increase in semiconductor chips
As we have seen, one aspect that led to the use of the word digitalization is the introduction of computer technology in areas otherwise unrelated to computers. It has become a direct reference to making things that were impossible possible. The more that digitalization advances, the more the world of electronics will grow, which will call for even greater use of semiconductor chips. Up until now, electronics mainly referred to consumer electronic equipment or industrial equipment. But its application to society and various elements of infrastructure has led the way for a new word, digitalization. The word digital has become another way of referring to electronics, and while it is not really a new word, it does have appeal as a quick and catchy word from the viewpoint of society and the world of infrastructure.
Digitalization implies widespread use of electronics and semiconductors, and that semiconductors will become the infrastructure of the world tomorrow. In Part 2, we will look at the changes and possibilities that digitalization will create in the world around us, and in Part 3, we will discuss "uberization," which presents a threat to businesses.
The contents of the article is at the time of announcement.
Writer
Kenji Tsuda
International technology journalist, technology analyst
Kenji Tsuda is a freelance technology journalist who writes both in English and Japanese. With over 30 years of work experience covering the semiconductor industry, Tsuda has been offering various insights to the industry through his blog (newsandchips.com) and analytical articles. He is editor in chief of the Semiconportal site (www.semiconportal.com) and writes the "Car Electronics" article series for Mynavi News site as a columnist.
Tsuda started his career as a semiconductor device development engineer, before becoming a reporter for the Nikkei Electronics magazine at Nikkei McGraw-Hill (now Nikkei BP). At the company, he created several magazines including Nikkei Microdevices (in Japanese), Nikkei Electronics Asia, Electronic Business Japan, and Design News Japan (in English), and Semiconductor International Japanese Edition. Tsuda went freelance in June 2007 as an international technology journalist. Books he authored in Japanese include Megatrend in Semiconductors 2014-2023 (Nikkei BP), Why We Shouldn't Let Go of the Semiconductor Industry (Nikkan Kogyo Shimbun, Ltd.), The Truth about the European Fabless Semiconductor Industry (Nikkan Kogyo Shimbun, Ltd.), The Latest Trends in Green Semiconductor Technology and New Businesses 2011 (Impress Corp.).