Notification
Jan 15, 2015
Tokyo Electron Makes Thomson Reuters' 2014 Top 100 Global Innovators List
TOKYO -- Tokyo Electron Limited (TEL) today announced that the company was named as one of Thomson Reuters' 2014 Top 100 Global Innovators.
As a world-leading information service firm, Thomson Reuters collects and analyzes data on the trend of global patent and intellectual property (IP) activities each year, in order to identify and honor companies and institutions that are creating original IP through superior R&D and advanced technologies.
The honorees are chosen based on four criteria, including the success rate, globalization, influence, and volume of patent activities. The respective metrics used for the assessment include the ratio of patent applications filed to patents granted, the percentage of global patents in the overall patent portfolio, the number of citations the patent received, and the number of patents issued.
TEL was chosen among the top 100 companies in recognition of its superiority in the success and influence metrics, in particular.
Thomson Reuters' press release on the 2014 Top 100 Global Innovators can be found at the following URL:
http://thomsonreuters.com/press-releases/112014/2014-top-100-innovators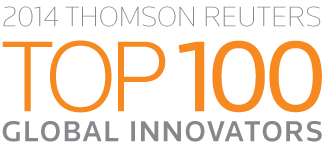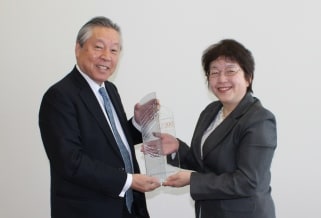 Right: Yoshiko Tanahashi, Vice President, Japan Sales, IP&Science(Thomson Reuters)
Left: Tetsuro Higashi, Representative Director, Chairman, President & CEO(Tokyo Electron Limited)