Tokyo Electron Chairman, President & CEO Tetsuro Higashi receives the SEMI Sales and Marketing Excellence Award
TOKYO -- Tokyo Electron Limited (TEL) today announced that its Chairman, President & CEO Tetsuro Higashi received the SEMI Sales and Marketing Excellence Award, inspired by the late Bob Graham.

The prestigious award by the Semiconductor Equipment and Materials International* (SEMI) organization honors the memory of Bob Graham, a founding member of Intel Corporation. The award recognizes individuals for the creation or implementation of marketing activities which enhance customer satisfaction and further the growth of the semiconductor equipment and materials industry.

Tetsuro Higashi, the 18th recipient of this annual award, has been recognized for establishing a new standard of partnership with customers based on mutual trust, as well as for his leadership roles in globalizing TEL and setting a model of industry collaboration.

"It is a great honor and pleasure to receive this prestigious award," said Higashi on accepting this award. "Getting this recognition has strengthened my resolve to do everything in my power to further advance the industry."

The award ceremony was held on December 3, 2014 during the presidents' reception at Tokyo Big Sight as part of the SEMICON Japan 2014.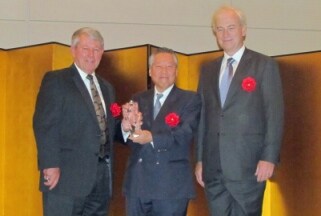 Left:Dennis P. McGuirk, President & CEO(SEMI)
Center:Tetsuro Higashi, Representative Director, Chairman, President & CEO(Tokyo Electron Limited)
Right: André-Jacques Auberton-Hervé, Chairman of the board(SEMI), President, CEO, and Chairman(Soitec)
SEMI's press release on this award can be found at this link:
http://www.semi.org/en/node/52206
*SEMI is the global industry association serving the manufacturing supply chain for such industries as semiconductors, flat panel displays (FPDs), nano-electronics, MEMS, photovoltaics, and other related technologies.