Tokyo Electron (TEL) in Hsinchu, Taiwan is hosting the TEL Taiwan Robot Combat in celebration of the company's 20th anniversary. The purpose of this event is to help students develop skills and abilities in applied machine engineering, as well as to identify promising engineering talents. TEL in Hsinchu, Taiwan held preparatory briefings at a number of university campuses across Taiwan beginning in October 2016, stirring a lot of interest. The first preliminary was held in the Central District, with 24 teams from 15 universities in the Central District competing against each other. The participants consisted of students of science and engineering departments, including those majoring in electric machinery, automatic control, electronics, machine engineering, mechanical and electric engineering, computer science, materials engineering, mechanical and computer-aided engineering, and computer-aided engineering. The participants, including some overseas students from the U.S. and China, competed in earnest with the ultimate goal of winning NT$60,000 in cash and a robot as a prize.
In the preliminaries, the teams are first tasked to assemble and complete a robot within 70 minutes. A referee determines winning teams, who are qualified to move on to the next round held in the afternoon, which consists of a series of 3-minute one-on-one battles. After a fierce competition in the Central District preliminary, the following six teams made it to the finals:
Group A: Team "Chicken Burger" (卡啦雞腿堡隊) from Hsiuping University of Science And Technology
Group B: Team "Tool" (工具) from National Chin-Yi University of Technology
Group C: Team "Automatic Control Pro" (自控pro) from Feng Chia University
Group D: Team "Staff Only: Do Not Touch" (員外摸這不隊) from National Chung Hsing University
Group E: Team "Red Carp, Green Carp, and Donkey" (紅鯉魚與綠鯉魚與驢) from Feng Chia University
Group F: Team "Electronic Shark" (電子鯊) from Hsiuping University of Science And Technology
The six finalists from the Central District will compete with 12 finalists from the North and South Districts on December 17, 2016 at the National Taiwan Science Education Center. If you are interested in which team will become the champion of the first TEL Robot Combat, come to the venue and give them a cheer!
Tokyo Electron Taiwan Limited(TEL Taiwan)慶祝在台灣成立20周年之際,為了發掘及吸引產業人才,及培育大學在校同學對科技機械的應用,特別舉辦了「東京威力科創-機器人大賽」。自2016年10月份起,東京威力科創更透過校園說明會的宣傳引發參賽熱潮,首先展開的是中區初賽,一共有15家中部區域的大學組成24支隊伍,其中囊括了電機、自控、電子、機械工程、機電工程、資工、材料工程、機電輔助、電腦輔助等理工科系的同學報名組隊參加,其中還有來自美國及中國的國際學生,一同熱烈爭取獲得冠軍台幣六萬元獎金及價值12萬元格鬥機器人的機會!
參賽隊伍每隊限時1小時內必須完成機器人組裝,並經由裁判確認是否可合格進入下午之格鬥競賽,比賽以分組對抗,每場為2隊對戰,3分鐘為限,初賽現場戰況激烈,最終為以下六隊獲得初賽獎金6,000元及晉級決賽資格。
A組 由修平科技大學組成的卡啦雞腿堡隊勝出
B組 由勤益科技大學組成的工具隊勝出
C組 由逢甲大學組成的自控pro隊勝出
D組 由中興大學組成的員外摸這不隊勝出
E組 由逢甲大學組成的紅鯉魚與綠鯉魚與驢勝出
F組 由修平科技大學組成的電子鯊隊勝出
獲得晉級資格的隊伍也將在2016 年12月17日在國立台灣科學教育館與北區及南區12隊的獲勝隊伍,進行冠軍爭奪賽。究竟誰能拔的頭籌,成為「東京威力科創-第一屆機器人大賽」冠軍?歡迎對於機器人賽事有興趣的民眾,與所有熱情的參賽者,一同共襄盛舉。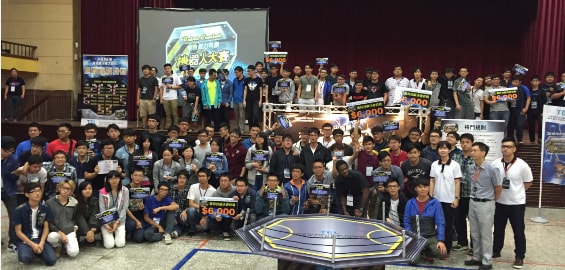 About Tokyo Electron
TEL, established in 1963, is a leading manufacturer of semiconductor and flat panel display production equipment. TEL has 74 operating bases for research & development, manufacturing, sales, and service in 16 countries and regions in North America, Europe, and Asia (as of April 1, 2016), offering the latest equipment and services of the highest quality. TEL in Hsinchu, Taiwan is located within the Hsinchu Science Park.
關於TEL
TEL (Tokyo Electron Limited),總部成立於1963年,為半導體以及平面顯示器製造設備的領導先驅,全球皆設有研發、製造、銷售共74個據點(2016年4月1日為止),遍佈美國、歐洲、亞洲等16個國家,致力於提供最先進的設備以及最優質的服務。東京威力科創台灣總部位於新竹科學園區。