Tokyo Electron Taiwan Holds Charity Events "Run for Love and Run for Hope" / 東京威力科創與您一起 為愛而跑 「Run愛傳遞」
Currently in Taiwan, there are many impaired children with congenital challenges for learning and/or physically incapable because of congenital diseases like autism, cerebral palsy, which hinder their chances of a normal life. In Taiwan, these children are placed in special education schools, where they learn through advanced educational aids to communicate, interact, and begin to explore the perception of this beautiful world, and even learn to take care of themselves in their future life.
This year, Tokyo Electron (TEL) in Hsinchu, Taiwan is celebrating their 20th anniversary, and is launching "Run for Love" in the spirit of practicing Corporate Social Responsibility (CSR) activities in June. Our employees participate in marathon races, where they will directly influence their charity donation by accumulating running mileage. This donation will go to the "National Nantou Special School" located in Central Taiwan, and will be used to assist in the purchase of advanced education school aids, so that these special needs children are able to have the opportunity to learn with more convenience.
Furthermore, some of our employees voluntarily wear traditional Japanese sumo wrestler costumes to attract people's attention in order to let other runners know we are running for Love and Hope.
在台灣有一群因先天疾病造成自閉、腦性麻痺、身體多重障礙等行動以及溝通不便的孩子們,因先天的障礙阻斷了他們的學習發展,更阻礙了他們過正常生活的機會。而這群孩童們現在於特殊教育學校,開始透過先進教育輔具學習與人群溝通、互動,開始能夠探索與認知這個美好的世界,甚至可以學習自理他們未來的生活。
東京威力科創股份有限公司(TEL Taiwan)成立於1996年,在今年歡度20周年慶的同時,秉持著實踐「企業社會責任CSR」的精神,於6月開始發起「Run愛傳遞」公益路跑活動,邀請公司同仁一同參與路跑,並依照路跑累積的里程數計算由公司捐助一筆公益基金。此次基金將捐贈於『國立南投特殊教育學校』,為這些因先天疾病造成自閉、腦性麻痺、身體多重障礙以及溝通不便的孩子們盡一份心力。此公益基金將用於協助學校購置先進教育輔具,讓這些有障礙的孩童們能夠開始有機會方便且自信地學習。
另外更別開生面的是,在公益路跑活動中,部份東京威力科創員工自願穿著代表日本傳統經典的相撲人偶裝,在炎炎盛夏一起發揮愛心,為愛而跑,「Run愛傳遞」,讓這群身障學童能夠邁向希望的一大步!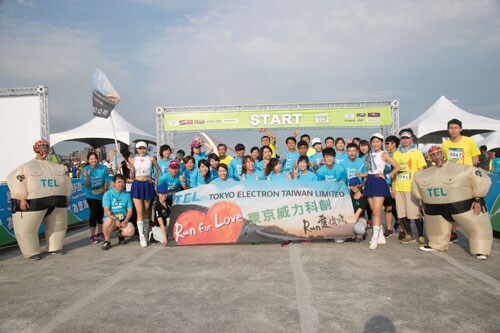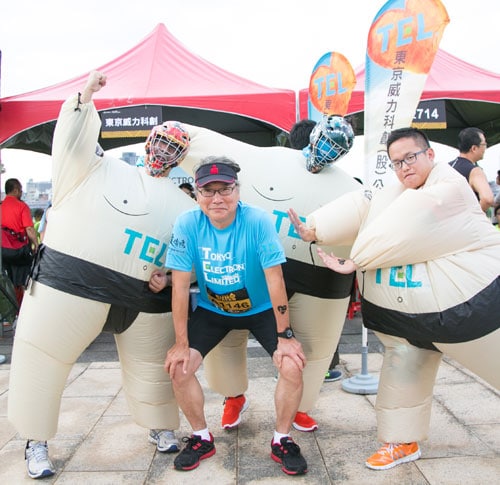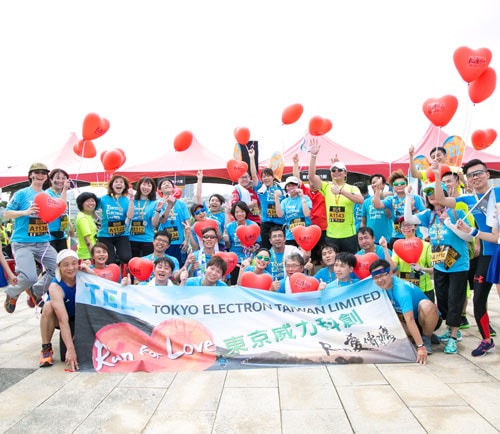 About Tokyo Electron
TEL, established in 1963, is a leading supplier of innovative semiconductor and flat panel display (FPD) production equipment worldwide. All of TEL's semiconductor and FPD production equipment product lines maintain high market shares in their respective global segments. TEL has located research & development, manufacturing, sales, and service locations all over the world.
Tokyo Electron Limited (TEL),總部成立於1963年,為半導體以及平面顯示器製造設備的領導先驅,致力於提供最先進的設備以及最優質的服務。
TEL於全球皆設有研發、製造、銷售及產品服務據點。